The information from this article is from the fan game The Silver Lining or fan fiction and is therefore not canon.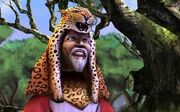 The Arch Druid (aka Archdruid) is the leader of the Druids (unofficial). He is the brother of Aria. He wears a hood of a cheetah which marks his position in society.
Background
Edit
Behind the scenes
Edit
Ad blocker interference detected!
Wikia is a free-to-use site that makes money from advertising. We have a modified experience for viewers using ad blockers

Wikia is not accessible if you've made further modifications. Remove the custom ad blocker rule(s) and the page will load as expected.