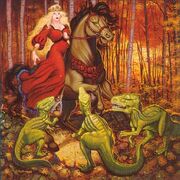 Autumn (aka Fall) is a season in Daventry. Autumn is a season that comes after summer but before winter.
Behind the scenes
Edit
Autumn like the rest of the seasons are mentioned or used by the games and stories to provides details about the setting of the story.
On earth and likely Daventry, the autumn corresponds with the months of September, October, and November in the northern hemisphere. This is confirmed in Kingdom of Sorrow with the reference to cold November rainy season.
References
Edit
Ad blocker interference detected!
Wikia is a free-to-use site that makes money from advertising. We have a modified experience for viewers using ad blockers

Wikia is not accessible if you've made further modifications. Remove the custom ad blocker rule(s) and the page will load as expected.