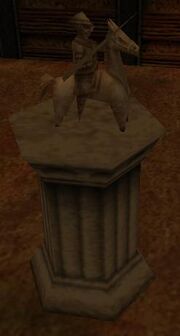 The
Essence of Sun Tzu
is a very potent strength and power-enhancer. Its container portrays the great general
Sun Tzu
on horseback. The
Apothecary Gnome
was thinking of removing it from sale altogether. It is most potent and permanently renders a person even more powerful than they previously were. But Connor was certainly interested in purchasing such. She supposed it would be alright but before she would sell it she begged a task of him.
She needed stock of three items. An object of Iron, a piece of tree root, and a fragment of amberglow. She did not see fit to sell the essence of Sun Tzu until he finished that task. Once Connor completed the task he was able to buy it for a mere 250 gold coins. Connor didn't know how to open the essence, and was told to just remove the warrior from the horse. Connor then imbibed the essence, and with a release of magic he became more powerful.
Ad blocker interference detected!
Wikia is a free-to-use site that makes money from advertising. We have a modified experience for viewers using ad blockers

Wikia is not accessible if you've made further modifications. Remove the custom ad blocker rule(s) and the page will load as expected.