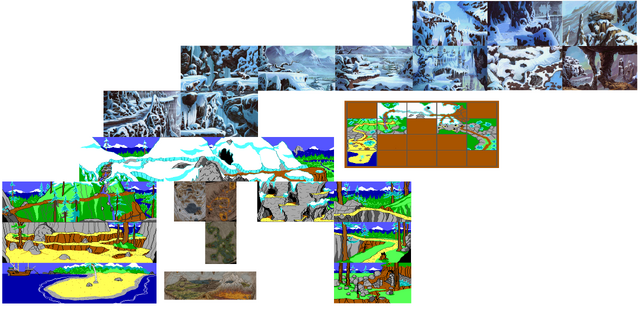 Map of the Snowy Mountains in relation to the Half Dome and Daventry valley (a valley which is considered part of the Kingdom of Daventry, and possible the source of its lakes and rivers)/Yosemite valley (seen in both KQ3 and KQ5).
The Snowy Mountain lies just north at slighly lower elevation than the Snowy Mountains. The kingdom of Serenia lies roughly to the west, and/or northwest/southwest. Daventry lies roughly to the south and southeast. This whole area makes up portions of the Great Mountains. Southeast will also link up roughly with the Glass Mountains & Hibestian Range, which follow the eastern coast from north to south. While the Snowy Mountains are part of or lie near the Westering Mountains and Spasky Hills which go from east to west.
This would also be the region where the Frozen Reaches volcanic mountain lies roughly (perhaps at the very high top of the Snowy Mountains, or Snowy Mountain). Based on the KQ8 geography it would lie roughly along the southern edges of Snowy Mountains to the north of Daventry. Barren Region would .lie east of the Frozen Reaches lower down the mountain, and the swamp roughly to the south of the Barren Region, but north of Daventry.
Lastly, at the top of one of these Great Mountains lies the Land of the Clouds at the top of the Door into Mountain. It lies further south still somwhere 'above' Daventry more or less. Although the location of the mountain where the door exists has shifted places between KQ1 and KQ3. Sometimes a lone mountain as seen in KQ1, and other times the southernmost mountain of the Snowy Mountains Alexander crossed into Daventry as seen in KQ3 (not counting the Glass Mountains and Hibestian Ranges to the southeast outside of Daventry proper). It represents a large overhang of the mountain that leans over into Daventry, with clouds floating below it (this is currently not shown on the map).
Also currently left out of the map is the region Graham flew over to reach Serenia, which would like roughly between Snowy Mountains and Snowy Mountain to the southwest or west of the Half Dome valley.
Appears on these pages

of
The Great Mountains is the collective name of the large mountain ranges on the continent of...

Half Dome was a mountain in the Sierra range of the Snowy Mountains (a Mountain Range of the...

The Snowy Mountain is a mountain high up in the Great Mountains, and lies near the Snowy...
See full list >
File history
Click on a date/time to view the file as it appeared at that time.
Metadata
Ad blocker interference detected!
Wikia is a free-to-use site that makes money from advertising. We have a modified experience for viewers using ad blockers

Wikia is not accessible if you've made further modifications. Remove the custom ad blocker rule(s) and the page will load as expected.