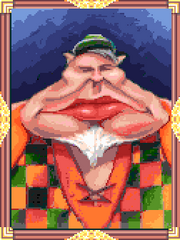 Grump-Frump is the Sense Gnome of Taste. He has an oversized mouth (with a long tongue to match), which allows him to taste better than others. His voice sounds similar to that of Droopy Dog. Alexander fools him by placing a mint on his tongue.
"My tongue betrays this one so sly. A man it is. I tell no lie."
"My tongue dislikes this sour thing! And the taste of man all over it clings!"
"Grump-Frump knows a tasty treat. It matters not what others bleat. No danger is this one, so sweet."