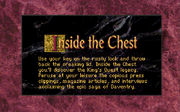 Inside the Chest
was a program included in several editions of the
King's Quest Collection
. It includes articles concerning King's Quest published in the various magazines over the years, including the Sierra Newsletter, Sierra News Magazine, and InterAction Magazine.
Inside the Chest
Edit
Use your key on the rusty lock and throw back the creaking lid. Inside the Chest you'll discover the King's Quest legacy. Peruse at your leisure the copius press clippings, magazine articles, and interviews acclaiming the epic saga of Daventry.
Ad blocker interference detected!
Wikia is a free-to-use site that makes money from advertising. We have a modified experience for viewers using ad blockers

Wikia is not accessible if you've made further modifications. Remove the custom ad blocker rule(s) and the page will load as expected.