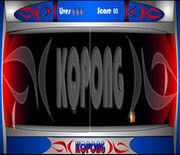 KQPong is an archived online flash game developed by Phoenix Online Studios.
Background
Edit
The game is based on the classic game Pong. The object is to bounce the "ball" (Connor's head) around the board as long as you can, by controlling the paddle with your mouse.
The highest submitted scores at the end of each month were published in a Hall of Fame, and the players were emailed a prize (artwork from the game).
Game Link
Edit
Ad blocker interference detected!
Wikia is a free-to-use site that makes money from advertising. We have a modified experience for viewers using ad blockers

Wikia is not accessible if you've made further modifications. Remove the custom ad blocker rule(s) and the page will load as expected.