The information from this article is from the fan game King's Quest III: To Heir is Human VGA or fan fiction and is therefore not canon.
Are you looking for King's Quest III Redux: To Heir is Human?
The King's Queat 3 Remake is an unofficial fan made expanded adaptation of KQ3 released by Infamous Adventures.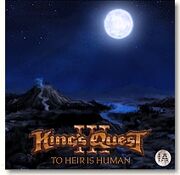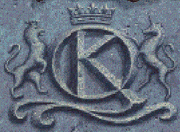 Infamous Adventures adaptation of Roberta Williams' classic 1986 hit, King's Quest III. It was designed in VGA-like color to match later Sierra releases, and using the AGS engine by Chris Jones, and includes new storyline material and new scenes. In the tradition of other fan adaptations, by Tierra/AGDI, Infamous Adventures created a new version for the beloved series.
Background
Infamous Adventures released the game on June 18th 2006. The official announcement read:
That's right, the wait is over. I smile with joy as I type these words in, thinking if this day was ever to come. The production is over, the testers are done and everything is ready to go. King's Quest III has finally been released. Remember this date, the 18th of June. The day KQ3 was released!
It's been twenty years since the evil wizard Manannan first appeared on our computer screens, but now, thanks to the hard work and dedication of the team at Infamous Adventures, he's back!
Kings Quest 3 : To Heir is Human was first released by Sierra On-Line back in 1986. As the second sequel to the hugely popular and successful Kings Quest series, it fast became a fan favorite. Roberta Williams, author of the Kings Quest series, broke new ground in computer games, introducing players to the magic map concept (making travel quicker between screens), timed puzzles and an in-depth spell casting system. All these things are standard fare in today's games, but were original concepts in 1986.
Unfortunately, due to the advances made in computer technology over the last twenty years, such classic games no longer run on the modern computer. It was with this in mind that Infamous Adventures decided to remake this game, bringing it up to the quality of Kings Quest 5.
Differences from the Original Game and Storyline
Behind the scenes
This game is occasionally referred to as King's Quest III VGA.
Many of the graphics in the high mountains are ripped directly from KQ5 mountains assets. Others in Daventry proper taken from KQ5 or KQ1SCI assets but modified.
External links
Ad blocker interference detected!
Wikia is a free-to-use site that makes money from advertising. We have a modified experience for viewers using ad blockers

Wikia is not accessible if you've made further modifications. Remove the custom ad blocker rule(s) and the page will load as expected.