The information from this article is from the fan game King's Quest IX: The Silver Lining VGA or fan fiction and is therefore not canon.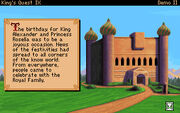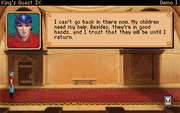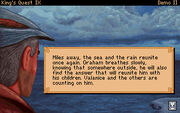 King's Quest IX: The Silver Lining VGA was a spoof/remake of The Silver Lining, specifically the demo. It was the first King's Quest fan-made remake demo that featured true VGA graphics (256 colors), based on another King's Quest fan game.
puzzles
graphics for Grown-Ups (320x200 with 256 colors)
real dialogs
no awful narrators (currently the demo uses the one from TSL, according to the designer this will be changed. The narrator will be replaced as soon as we have a better one.)
no bugs or crashes
Development plans
Edit
Release an 1:1 2D-remake of episode 1.
Remake all other episodes (2-5).
Put all episodes into one game and re-release it.
Add additional stuff and release the game as KQ9 Plus.
Develop voice packs... or start a remake of KQ8...
Behind the scenes
Edit
The main intent of the game was to take a jab at Phoenix Online Studios, and perceived negative aspects concerning The Silver Lining, Episode 1; for example lack of length, and puzzles, and use of 3-d. The game's creator never went much further than a demo of the Castle of the Crown, and a few mock-up screens.
The game designer has since gone on to work with another Sierra fan game team, Magic Mirror Games, on KQ4 remake.
External Links
Edit
Demo I of King's Quest IX: The Silver Lining VGA.
Ad blocker interference detected!
Wikia is a free-to-use site that makes money from advertising. We have a modified experience for viewers using ad blockers

Wikia is not accessible if you've made further modifications. Remove the custom ad blocker rule(s) and the page will load as expected.