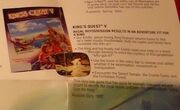 King's Quest V
Edit
REGAL REPOSSESSION RESULTS IN AN ADVENTURE FIT FOR A KING
Edit
Our kindly, peace loving King Graham returns home to find he's been royally hoodwinked. Both his castle and family have vanished into thin air!
The king and his trusty owl Cedric need your help on a quest through Serenia to solve the mystery of this gargantuan "who-got-it?"
Use the icons in the menu bar to choose your action, whether it be examination, movement, or manipulation.
Encounter the Desert Temple, the Crystal Caves, and the Forbidden Forest.
This fairy tale gone foul has gone far enough. Use your wit and might to reunite the royal family and hear the people shout, "Long Live the King!".
Available Early 1992.
Ad blocker interference detected!
Wikia is a free-to-use site that makes money from advertising. We have a modified experience for viewers using ad blockers

Wikia is not accessible if you've made further modifications. Remove the custom ad blocker rule(s) and the page will load as expected.