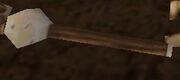 The heavy mace is a weapon carried by
Skeleton
mace-wielders of the
Dimension of Death
. Connor dropped the
Sword of the Lake
to examine one, but quickly chose to discard it and keep his previous sword as it was a stronger weapon.
Alternatively, if Conner had not found the Sword of the Lake, this or the broadsword would have been his next weapon after the Axe.
Ad blocker interference detected!
Wikia is a free-to-use site that makes money from advertising. We have a modified experience for viewers using ad blockers

Wikia is not accessible if you've made further modifications. Remove the custom ad blocker rule(s) and the page will load as expected.