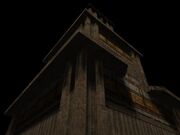 The Northwest Tower was a kind of Lighthouse in the Dimension of Death it stood above all other structures in the realm, and had several torches lit at the top. Portions had crumbled allowing Connor flat walls to climb using his Rope and Hook. He climbed up two levels and found some Healing Crystals, and a Potion of Reveal.
Ad blocker interference detected!
Wikia is a free-to-use site that makes money from advertising. We have a modified experience for viewers using ad blockers

Wikia is not accessible if you've made further modifications. Remove the custom ad blocker rule(s) and the page will load as expected.