Owl Hunt is a parody adaptation of Duck Hunt featuring Cedric (unofficial)). It is made by Dead Owl Productions.
The game involves playing Graham, and shooting Cedric with a magic wand (or is it a gun).
Background
Edit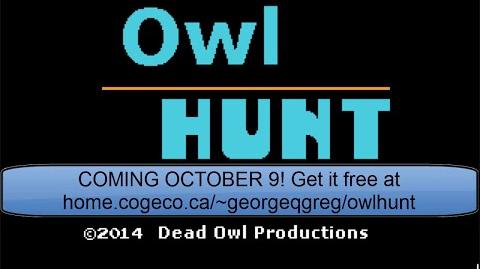 King Graham thought he had escaped. After his adventure it had seemed Mordack had killed Cedric, or at least put him to sleep. King Graham escaped, and went on a walk in the forest. Finally... alone. Then, that fateful moment when he came across a snake, and those cursed words rand through his ears once again.
"GRAHAM, LOOK OUT! A POISONOUS SNAKE!"
Angry as hell, Graham knew there was only one thing to do. He took out his gun. (Oh yeah, did you know Graham was packing?) The hunt was on... HAVE YOU EVER WANTED TO SHOOT THAT DAMN OWL? WELL, DO WE HAVE THE GAME FOR YOU! OWL HUNT! Finally, you get to point, click, and KILL! Take your revenge on the little bastard, in OWL HUNT! Now out to download below! (Of course, not an adventure! It's more arcade style!)
External links
Edit
Ad blocker interference detected!
Wikia is a free-to-use site that makes money from advertising. We have a modified experience for viewers using ad blockers

Wikia is not accessible if you've made further modifications. Remove the custom ad blocker rule(s) and the page will load as expected.