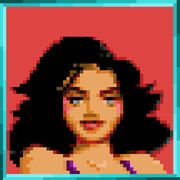 Patti (aka Patty ) is Larry Laffer's girlfriend. She appears in Hoyle 3.
Background
Edit
Graham and Rosella once played board games with Patti during their trips to Hoyle.
Patti is known to see visions of Daventry when she smokes some strong weed.[1]
She like many other inhabitants of Sierra universe (including Graham) was interviewed by Bookwyrm. Patti's favorite book is Cosmos, by Carl Sagan. She learned all sorts of wonderful things about the universe reading that book. She didn't want Bookwyrm to look so surprised! She has a brain in her admittedly perfect head. She believed that when her looks went, she want a second career as a nuclear physicist. Besides, she just love Carl. She get the chills when he says "Billions and Billions."
Larry was dating Patti after many of his early adventures, but also was going out on her with other woman.[2]
Patti, along with Larry also met Rosella when she was reenacting scenes of the time she was trapped in the Whale in Tamir for Roberta Williams, while working at Sierra On-line for a time.[3]
Apparently Graham once ran out on Valanice and his kids, and Patti took his correspondence for her him in Washington D.C. It's not clear if he was dating her, or simply using her services as a go between.[4]Graham left a message in Coarsegold before he ran off, announcing that he was no longer responsible for any debts incurred by his family.
Titles and nicknames
Edit
Passionate Patti (P. Patti)
Patty
Behind the scenes
Edit
Patty's interaction with King's Quest characters is largely limited to Leisure Suit Larry 3, a reference in Freddy Pharkas: Frontier Pharmacist, and in the article The Bookwyrm Investigates: Sierra Characters' Favorite Books. The interactions also appear in The Authorized Uncensored Leisure Suit Larry Bedside Companion, and The Official Book of Leisure Suit Larry.
She isn't mentioned specifically in any main King's Quest related games, though Larry Laffer is.
References
Edit
Ad blocker interference detected!
Wikia is a free-to-use site that makes money from advertising. We have a modified experience for viewers using ad blockers

Wikia is not accessible if you've made further modifications. Remove the custom ad blocker rule(s) and the page will load as expected.