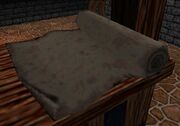 Connor found a Scroll of Magical Instruction for a Spell of Might on the counter inside of the
Alchemist's Shop
. Knowing it would be helpful on his journey, he took it for later use.
Inscribed on the scroll was the spell;
"PERMANENT SPELL OF MIGHT - NEED: A morsel of giant golden mushroom, a blue adamant, the tongue of a basilisk. Combine these under the blast of a lightning bolt."
The spell increased the strength of his attacks.