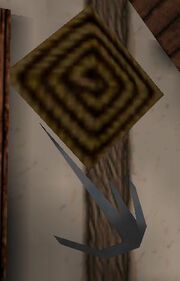 The
Rope and Hook
is an important item found in Daventry. Connor knew he could use the rope and hook which he saw up in rafters of the
Grinding Mill
. But was prevented from reaching it due to the grinding stone that was spinning on the inside of the mill. So he cut a tree down with an
axe
to stop the flow of water to the wheel. Once the grinding stone stopped he was able to climb up to where the rope was held. The rope and the hook proved useful for climbing. Connor used it to climb cliffs and the side of buildings in various places during his journey.
When Connor enter the Mill he said: " I can use that rope and hook, but there is a mill stone! How can I stop it?"
Ad blocker interference detected!
Wikia is a free-to-use site that makes money from advertising. We have a modified experience for viewers using ad blockers

Wikia is not accessible if you've made further modifications. Remove the custom ad blocker rule(s) and the page will load as expected.