The Sacred Treasures (aka Sacred Treasures of the Land of the Green Isles) are treasures held important to the people of the Green Isles.
Background
Edit
To each Land in the Green Isles, there is a treasure held dear to the native people.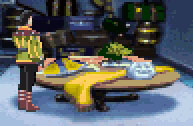 The Sacred Treasures were taken by Shamir Shamazel, Abdul Alhazred's genie. With the genie's powers, Alhazred spread rumors around to the other islands that each island had stolen another's sacred treasure. The Winged Ones believed the Red and White Queens had stolen their Golden Fleece, the Beast claimed the Druids had taken his Coat of Arms, the Red and White Queens thought that the Beast had taken the Singing Stone, and the Druids were told that the Winged Ones had taken their Miniature Oak Tree.
Alexander discovered the secret treasury room in the basement of the Castle of the Crown, and confirmed, by a letter from a Shadrack from the Black Cloak Society, that Alhazred had indeed used the genie to cause the feud with the other islands in order to gain control of the Land of the Green Isles.
Ad blocker interference detected!
Wikia is a free-to-use site that makes money from advertising. We have a modified experience for viewers using ad blockers

Wikia is not accessible if you've made further modifications. Remove the custom ad blocker rule(s) and the page will load as expected.