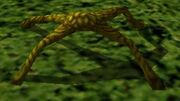 Scavenger Slimes
are creatures found in
the Swamp
.
Background
Edit
The slime is a creature that can be found only in the swamp. They can spit poisonous globs of sludge. They are fast and skittish. While they are not a hearty creature they are relentless in their attacks, constantly hitting and running.
Behind the scenes
Edit
Referred to as the 'Scavenger Slimes' in KQ8 Hintbook.
Ad blocker interference detected!
Wikia is a free-to-use site that makes money from advertising. We have a modified experience for viewers using ad blockers

Wikia is not accessible if you've made further modifications. Remove the custom ad blocker rule(s) and the page will load as expected.