The
Sleepy Hollow
was a black book. It was a strange tome from
Caldaur's library
. It was entitled
Sleepy Hollow
, and felt lighter than its size would suggest. Inside was a hollowed-out section with a
silver key (unofficial)
in the shape of a sleeping child. On the inside back cover was a riddle warning about the
Maws
that would attack if it was answered incorrectly.
The Riddle
Edit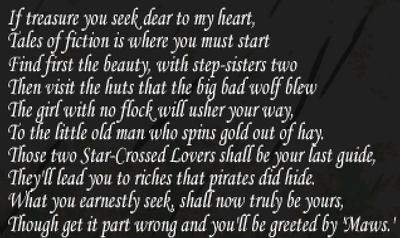 Behind the scenes
Edit
The short story "The Legend of Sleepy Hollow" was written by Washington Irving. It is about an undead being called the Headless Horseman.
Ad blocker interference detected!
Wikia is a free-to-use site that makes money from advertising. We have a modified experience for viewers using ad blockers

Wikia is not accessible if you've made further modifications. Remove the custom ad blocker rule(s) and the page will load as expected.