The information from this article is from the fan game The Silver Lining or fan fiction and is therefore not canon.
For the classic issues see, The Four Winds (classic)
The Four Winds are a bit of fan fiction written by the team behind The Silver Lining.
It could be found at The Four Winds website, but the site has been down for a while. There are no archives or backups for most of the pages.
We know which way the wind is blowing. Jul 04, 1819 D.C.
Weekly Advice
Edit
Always remember the popular haiku: Where thou finds bridge trolls/Seek thyself a goat or cart/Knock them off posthaste
Volume 9, Issue #1 1817 DC
Edit
The Green Isles Celebrates its New Rulers
Edit
By Kurt Rayner For the first time in almost 30 years, the Green Isles are seeing the hefty responsibility of ruling and maintaining the lands change hands today, as our own beloved Cassima and her new husband, Alexander of Daventry, were officially and ceremoniously decreed the new King and Queen of the Land of the Green Isles. Public support was out in full force as Green Islanders made their way to the Castle of the Crown to witness the historic coronation, and even the Isle itself seemed to celebrating with a clear blue sky and the sun shining on the lush and lively island full of celebrants.
"It's a big day for all of us," commented Hakim, the owner of the local pawnshop, who reserved a front row seat for the occasion. "I feel like I'm a little boy all over again, sitting on the shoulders of my father so I can see the coronation! I was there for Caliphim and Allaria's, and I have every intention of being there for Cassima and Alexander's big day as well."
Along with Hakim, many of the Isle's other merchants and vendors were present, as well as numerous nobles, dignitaries, officials, and representatives of the other Isles.
"I remember when Alexander traded for one of my fine new lamps," a peddler commented shortly before the ceremony was to begin. "The old lamp I got had such a nice, traditional design. There was no genie in it, but it's a fine lamp nonetheless! I use it frequently to this day."
Of course, those closest to the new King and Queen were also in attendance for the big day: The King's mother and father, King Graham and Queen Valanice of Daventry, his sister Princess Rosella and her suitor Prince Edgar of Etheria. Queen Cassima's parents, the now-former King Caliphim and Queen Allaria, were there as well of course, taking part in the ceremony as well the celebration.
"I'm very proud of him, he's grown so much," King Graham told the Four Winds. "When he was stolen from us as a baby, we never thought we'd ever see anything like this day. But here we are, and we couldn't be prouder or happier for Alexander and Cassima."
Security at the castle for the coronation "Not being in charge will take some getting used to," King Caliphim joked after the ceremony, in which the traditional crowns were passed to the new monarchs. "But Allaria and I are ready to retire quietly. We have complete confidence in our daughter and her husband to rule the Green Isles with the best interests of the land at heart. They are both intelligent, loyal, kind, and brave—they will do us proud."
"Cassima has done quite well for herself, I must say," the Queen Mother commented, "Alexander has a good head on his shoulders, and he certainly doesn't back down from a challenge! He's already done so much to repair the damage done by Alhazred."
As always, however, there are those who are wary of the change of rule. "I am still quite skeptical about this new king," one Island official, who wished to remain anonymous, stated. "I mean, sure, he finds wonderful lumps of coal for people and his decision to keep the prominent display of red in the Castle of the Crown was simply genius, but what has he done for us lately? The only saving grace for me in this change of power is that Cassima will be there to provide stability and tradition to the Isles!" The statement was then followed up by an aristocratic upturn of the nose and an indignant and distinctly diagonal storming off.
Of all the individual Isle's rulers, it seems that the King and Queen's largest supporter is Prince Cocteau the Thrice-Blessed, ruler of the Isle of the Beast. "Not only did King Alexander break the enchantment placed on me by that wicked witch, he introduced me to Beauty, my wonderful queen and the light that sets my heart on fire. Now that the King has found and returned my coat of arms, I have yet more reason to sing his praises and swear my loyalty to him. I have no doubt that his and Cassima's reign will be both fair and prosperous for the Green Isles."
We were unable to get interviews from any of the other Isles' representatives, but their attitudes at the ceremony seemed to be positive. All-in-all, public opinion about the Green Isles' new King and Queen appears to be very optimistic indeed, as the people are hopeful that this reign will be one of good will and happiness for the kingdom. For the first time in a long time, things in the Land of the Green Isles appear to be looking up.
"It is my greatest desire that the rule of King Alexander and Queen Cassima be noted in history as one that was kind, fair, and just," the new King stated in his coronation speech. "There is still some amount of distrust and unease from what the Green Isles have gone through recently. But with the return of the Isles' stolen treasures, the imprisonment of Alhazred, the re-opening of the ferry and the trade routes, and the continued cooperation of you, the good people of this fine kingdom, we can assure that the Land of the Green Isles will once more thrive as a land of peace, prosperity, and good will."
"What we wish to do with our rule is to show great charity and love to you all," Queen Cassima said in her accompanying coronation address. "We want there to be a clear message that the bad times are over, that evil has been cast out from this place, and that the Green Isles stand once again, united in freedom, righteousness, and happiness."
Some Green Islanders, not blessed with the power of knowing what's going on, have no idea who their new king is. To rectify this predicament, this reporter has taken it upon himself to compile a history the Prince who is now King.
King Alexander was born to King Graham and Queen Valanice of Daventry twenty-one years ago in the land of Daventry along with his twin sister, Rosella. A year later, however, he was stolen from his crib by the evil wizard Manannan, and raised as a slave named Gwydion, knowing nothing of his true identity. Despite these circumstances, Alexander's good nature and good sense were never dulled through the years, and it was no secret to him that his master was evil and untrustworthy. Alexander secretly made a study of magic on his own in the wizard's house, and used the evil wizard's own magic to transform Manannan into a cat and escape! His travels thereafter revealed the truth of his birth, and he found his way back to Daventry. And with no time to lose! Alexander made his first mark as a hero and an adventurer by destroying a terrible three-headed dragon that held his homeland, as well as his sister Rosella, in its grip of terror, and was joyously reunited with his family.
"I knew when he returned to us that he would become a great man," his mother, Queen Valanice, told the Four Winds. "He's so much like his father: brave, adventurous, yet cautious, wise, kind, and with a heart of pure gold. I guess it's just in the blood. I am so proud of both of them!"
It was not long after this that Alexander found himself at the mercy of yet another dark wizard, a name quite well known to Green Isles: Mordack, the fiend who kidnapped our own Princess Cassima, and brother to Manannan. King Graham strove valiantly to free his family and defeat this evil wizard, and it was love at first sight when Alexander and Cassima met in the aftermath of their imprisonment. The noble King Graham made certain that Cassima was able to return to her own homeland, but when months passed and Alexander heard no word from her, he grew concerned. His family's magic mirror showed him the way to our fair land, and brought him here in our hour of greatest need.
The tale of Alexander's battle against Vizier, murderer, and usurper Abdul Alhazred is one that the Green Isles shall never forget. His cunning and bravery took him not only to our shores, but even to the Land of the Dead itself to save Cassima's parents, bring them home, and in the end reveal the vile man for who he really was to one and all. What may have befallen our beloved home had it not been for Alexander? This reporter does not care to speculate on what that dark destiny may have been. Thankfully, Queen Valanice was quite proven quite right—her son is a great man, and he has proven this thoroughly to the Land of the Green Isles.
Welcome, King Alexander and Queen Cassima! Long may you live and reign!
Ferry is restored in the Land of the Green Isles
Edit
By Kurt Rayner
Old and new: The ferry in disrepair (left) and the ferry with repairs almost complete (right). Shamir also fixed up the dock and Hassan's office. The whole place looked brand new! Unfortunately, a small piece of land was lost in the process.
After years of being dry docked and falling into a sad state, the Green Isles Ferry is at long last being repaired. Aside from the use of magic, which is quite limited amongst the commonfolk of the kingdom, the ferry run by Isle of the Crown native Hassan was the only means of communication and transportation among the islands. The restoration began with Shamir Shamazel, genie to King Alexander, magically removing the rotting wood and replacing it with a magical and gifted wood that will remain impervious to such damage for the rest of the ferry's days. The holes and weak spots in the hull are gone, new sails are being sewn, and all mildew, mold, and barnacles are being scrubbed clean from the ferry.
King Alexander ordered the restoration of the ferry shortly after his marriage to Queen Cassima. It has taken many months for the genie and his workers to make progress. Though Shamir has said he could have moved the process along quickly through magic, Captain Hassan insisted on overseeing the process from start to finish. "I helped my father build the last ferry and it served well for years. The new wood's nice, don't get me wrong, but a captain builds his boat and he does it right—by doing it himself," Captain Hassan explained proudly.
"I'm excited that King Alexander has made such a grand effort to restore the ferry," Hassan went on to say. "Alhazred was the reason we'd dry-docked the ferry in the first place when he was busy separating the islands. But now that traitor's not in power, and the islands can get back to being friendly neighbors again." Indeed, the ferry is greatly needed to facilitate trade between the islands, carrying loads that simply cannot be moved by magic maps, and its use in the kingdom goes back for generations.
"My father taught me to steer the ferry correctly and avoid the reefs and rocks before he died, just like his father taught him, and just like I plan to teach my son once he's tall enough to reach the wheel. I was afraid that this old boat would no longer be seaworthy and that it would take years to build a new one, but I'm glad I was wrong about that. It's important to get the old girl back out there, for everyone's business and not just mine. With the Island Queen back in business, it's starting to feel like old times again."
The ferry's captain was not the only one pleased with the restoration. His first mate was not available for comment, but the merchants from the village on the Isle of the Crown were happy to speak with us.
"My business will be booming once more," said Hakim, the owner of the Pawn Shoppe. "Business in my store had slowed down considerably with the ferry was out of service. I could not receive goods from the other islands, and my merchandise just seemed to pile up with nothing getting sold. Additionally, I could not replenish my supply of complimentary mints! In fact, when I first met Alexander, my heart leaped at the sight of a foreign visitor. I was even happier when he spent his copper coin at my shop. King Alexander may be the best thing that ever washed up on our shores!"
Ali, the owner of the book store, also spoke with us. "I hope that the new monarchs will encourage reading throughout the land, especially among our young people. Reading stimulates the mind and feeds the soul, you know. And frankly I feel it's beginning to become a lost pastime on our younger generation. And I have heard that I am not the only book worm in the Land of the Green Isles, but that there is a literal one on the Isle of Wonder. I would give anything to see his collection of books!"
"Of course the ferry will help my business!" says the lamp peddler, whose real name he declined to reveal. "With more people coming to the Isle of the Crown from off-island, there are bound to be more people who need to buy lamps, and with lamps to trade! By the way, would any of your readers have any old lamps to trade for new ones? I'll be at the bazaar all day if they do, and sometimes all night too. You are going to print that right?"
The Isle of the Crown had anticipated the re-opening of the ferry would be beneficial, and had recently approved expansion of the main street to include new shops including a designer clothing shop, a candy shop and a map shop among other new businesses.
The restorations to the ferry and the dock are scheduled to be completed within a few weeks, and once the Island Queen has been given a proper test sail in the waters of the islands once again, Captain Hassan will be holding a grand re-opening of his business on the Isle of the Crown. The Four Winds eagerly awaits getting its distribution numbers back up and running as well!
While working on the ferry, Shamir also fixed up the dock and Hassan's office. The whole place looked brand new! When pressed, Hassan grudgingly agreed the lost land was no longer necessary with the ship out of dry-dock.

When asked to comment on the dock and ferry repairs, recovering mint addict Shamir responded "Oops. Sorry about that bit of land there. Hic!
Celebration to Honor Daventry's Hero
Edit
MacLyrr bestowed official title Guardian of the Realm By Linden Isadora Among the royal heroes of Daventry: King Graham, Queen Valanice and Princess Rosella
Castle Daventry was the setting for a much-needed celebration this past weekend, which marked the one-month anniversary of the restoration of the kingdom by Connor MacLyrr. Tens of thousands of celebrants came from all corners of the land to pay homage to their savior and to once again see the long-absent Princess Rosella, but mostly to enjoy good food and good fun courtesy of King Graham and Queen Valanice. The four-day long celebration began with Princess Rosella, recently returned from Etheria, honoring the new hero. "I am very grateful to Connor MacLyrr, as is the entire world. Had he not reassembled the Mask of Eternity, who can say what evil would have consumed other lands beyond Daventry?" After her speech, the Princess presented Connor with a golden shield bearing the royal insignia of Daventry. Though he could not be present for the ceremony, King Alexander of the Land of the Green Isles sent along his thanks to the man who saved his parents and his homeland.
"I'm so proud of him," gushed MacLyrr's fiancee Sarah. "I've always known what a wonderful man he is, and now the rest of Daventry knows, too."
Merchants from many different kingdoms set up booths outside the castle, catering to the thousands unable to be inside the castle for the official ceremonies. A baker from Serenia had several custard pies which he advertised as "The Pie that Slayed the Yeti," referring to King Graham's adventures in the mountains of that region. At another booth, a well-to-do Woodsman was offering bowls of his wife's famous "Never-ending Gruel," and genuine pieces of a gingerbread cookie house that was long ago demolished. Pan and his lovely lute, making a rare appearance outside of Tamir at the personal request of Princess Rosella, provided music for the event.
The celebration was an occasion for many to relive previous episodes in Daventry's history. One festival attendee, an old gnome with the strangest name, remarked, "I remember when Graham was first starting out in this world. Found all three magic treasures in no time, he did! He was quite the accomplished adventurer, as was his son Alexander. I can recognize a great adventurer when I see one. I'll never forget when I saw Alexander emerge from that mountain cave with his sister by his side. Connor's the same way, mark my words. We've seen our share of hard times in Daventry, and we'll see plenty more, but with people like King Graham, King Alexander, and Connor MacLyrr, I'm none too worried."
Underlining these sentiments was the ceremony in which King Graham named Connor MacLyrr the new Captain of the Guard. In the presence of some of Daventry's most respected and prominent citizens, the King knighted MacLyrr and bestowed upon him the official title "Guardian of the Realm of Daventry." It was a poignant ceremony, and recalled the days when the King was himself Daventry's most respected and beloved knight. "Connor has proven himself to be a very resourceful young man," the King said. "He showed great calm in the face of extraordinary circumstances, and he has demonstrated that he is both a skilled warrior and a crafty adventurer. The future holds great things for him. I am honored to have him serve in the highest position among my knights."
When asked to comment on the ceremony, Connor said "I am honored to accept this position, and humbled that my liege speaks so highly of me. I will continually strive to be worthy of his respect, and I will do my best to follow the example set by King Graham and his entire family."
As the celebration began to wind down, villagers gossiped about the new Captain of the Guard and his fiancee. Rumors circulated that perhaps with both of the King's children in foreign lands, the next ruler of Daventry would be found in a manner similar to King Graham himself. No one would comment on these rumors, but they provide a fitting end to a celebration honoring a hero.
Interview with Princess Rosella
Edit
A fascinating interview with the beloved princess of Daventry about the return to her homeland and its new hero Connor MacLyrr.
By Black Widow
Black Widow: (descending from a parapet) Excuse me, handsome. I'm here to see the princess.
Guard: Ah! Spider! (swings his sword at her, which she evades)
BW: Woah there, cowboy! Calm down, or I may have to put you down like I did my first through third husbands.
G: Excuse me?
BW: The name's Black Widow, and I'm here to interview Princess Rosella. (sighs) The good-looking are just so rarely intelligent.
G: Oh—uh, right. Someone did tell me that. I just thought the name was a joke. Sorry, uh, ma'am.
BW: That's better, cupcake. Now, the princess?
G: I'll take you to her. (Black Widow settles onto his helmet and he takes her inside to a sitting room where the Princess sits at a table, puzzling over a chessboard by herself. He bows.)
G: Your Highness, your interviewer from The Four Winds is here.
Rosella: Excellent! Please show them in.
G: I am, Highness. She's right here
R: Whatever do you—eek! A spider!
G: Exactly, Your Highness.
BW: Princess Rosella, it is wonderful to finally meet you. I'm Black Widow.
R: You…work for a newspaper?
BW: I'm the best gossip columnist they've ever had.
R: I see. You may leave us, guard, thank you. (The guard bows and exits.)
BW: So, Your Highness, now that it's us girls, let's get down to the juicy details.
R: Of course. I'm sure you want to know all about the Mask of Eternity and Connor—
BW: (laughs) Yes, yes, in good time, but I mean the real juicy stuff. What's going on with you and Prince Edgar of Etheria exactly? Our readers are dying to know.
R: What? That's—that's none of your business, Ms. Widow. ….or is it Mrs?
BW: Miss, right now. And come now, Princess, you surely must know that there are rumors flying everywhere about you two. Don't you want to set the record straight? Exclusively in my column?
R: There are always rumors. Why don't we focus on the Mask of Eternity for now?
BW: Fine, fine. Have it your way. So, the Mask issue…?
R: (sigh) Yes, there was a "mask issue" as you so eloquently put it. My brother and I were not in Daventry when the disaster occurred, and so we were not directly affected by its curse.
BW: Care to elaborate? You surely weren't unaffected by what happened.
R: It is my homeland, so of course I was more than a little concerned! And I was deeply worried for my father. Our family has passed through the fire many times before, so all we could do was hope that our luck would hold. Alexander and I didn't know if the curse would affect us if we came back to Daventry, so we weren't sure how we could help at first. More than anything else, my brother and I felt...powerless. It's a rare feeling for us, for our family. As royalty, of course, we deal in power. And even when we've been stripped of that -- as we have all been at some point or another -- we felt that our own resourcefulness was something that we could rely on. My father always taught us to be resourceful. But there was a lot more at stake here than our own lives. And there really was nothing that we could do.
BW: Mm-hm. But your luck did hold up, didn't it? When Connor came on the scene?
R: It did indeed. All of Daventry is very lucky that Connor escaped the curse and was able to defeat Lucreto. Who knows what other harm he might've done beyond Daventry if he'd succeeded?
BW: So you mentioned in your speech. Daventry really is turning into quite the land of heroes, isn't it?
R: We're all very proud of who we are and what we've accomplished, if that's what you mean.
BW: And you should be, sweetie, you should! It's not every girl who can say she swooped in to save a man's life not once but twice and kept him crawling back for more.
R: I beg your pardon!
BW: You know what I mean. Now come on, everyone knows the Mask of Eternity story. I'm looking for some real news to give our readers, and everyone loves a good romance—especially me. You, Edgar, what are we thinking? Wedding bells in the future?
R: Well, he has asked me to marry him….
BW: Oohh, I love a wedding!
R: …but that was a number of years ago and I said no.
BW: Oh drat! Old news!
R: Sorry, Ms. Widow. But I tell you what, if there are any weddings coming up for me, I promise I'll let your paper run the first announcement about it.
BW: You're more clever than you look, Princess. You've got a deal. Shake on it?
R: Thanks…I think. And no thank you, I've heard about your ex-husbands!
Volume 9, Issue #2 1817 DC
Edit
Checkmate! Grand Opening of Chessboard Land Cancelled Mid-Ceremony
Edit
By Kurt Rayner At the ceremony celebrating the official opening of the Isle of Wonder's Chessboard Land to the public, a bitter quarrel between the Red and White Queens led to the disruption of the ceremony and the immediate re-closing of Chessboard Land.
At first, all seemed well at the ceremony. All of the citizens of the isle of Wonder were present, save for those of the foliage family who were too firmly rooted in the ground to move, as well as representatives from the other islands. A red and white ribbon stretched between the marble posts at the entrance to Chessboard Land, waiting to be cut to signify the opening. But the age-old rivalry of the two Queens reared its ugly head only moments in.
The Red Queen spoke first. "Dearly beloved, we are gathered here together to—"
"No, that's how weddings are supposed to start, that's not the right speech!" her sister the White Queen interrupted.
"Ahem, as I was saying before being so rudely interrupted, today is a day for great celebration in the Isle of Wonder, indeed, for all the islands of the Land of the Green Isles. Today is the grand opening of Chessboard Land. From this day forward, all will be welcome in our Red and White corner of the kingdom," the Red Queen continued.
The White Queen spoke up again. "You've had your moment in the spotlight, now it's my turn to make a speech, sister. And stop being red first! You know perfectly well that they will marvel at the beautiful color of white before they notice the garish red you keep insisting we put everywhere!"
A brief argument broke out between the queens, but their knights quickly calmed them both down before it got worse. The White Queen at last took her turn to give her speech.
The gates of the Isle of Wonder Chessboard Land closed...
"Loyal subjects of the Land of the Green Isles, today you will finally be able to witness the extraordinary beauty of Chessboard Land first hand. For a long time we were reluctant to allow humans to enter Chessboard Land, permitting only chess pieces in our homeland. But King Alexander and Queen Cassima have persuaded us that sharing is in the spirit of the kingdom, and so we have opened our doors to the public. As I cut this ribbon, Chessboard Land will become open to the public!"
However, just at the White Queen was about to cut the ribbon, the Red Queen jumped up in protest. "I am as much queen of this island as you are, and I demand that I be the one to cut the ribbon!"
"How typically selfish, as always! Not only do you get the singing stone, you think you should cut the ribbon as well! Well, you're not getting these shears!" The White Queen held the shears above her head, out of reach from the Red Queen.
"And you are just being childish as usual! Give me those shears!" The enraged Red Queen lunged at her sister, trying to snatch away the shears, while the crowd looked on in shock. The White Knight backed up the White Queen in her effort to hide the shears while the Red Knight came forward to help the Red Queen seize control over the shears. In the tussle that ensued, the shears were thrown in the air and the crowd tried to shield themselves from them as they fell. One Winged One was quite as lucky as the rest of the crowd, getting nicked on one of his wings and losing a few flight feathers to the sharp edges.
The representative from the Isle of the Crown, sent by King Alexander, tried to stop the fighting, but things only got worse as each Queen tried to get him to take her side. The White Queen was knocked down by the Red Queen at one point, but after she regained her balance, the White Queen threw the red and white cake, baked in honor of the opening, in the Red Queen's face. Both queens called in the pawns and other chessboard pieces, who jumped to attention and were soon herding the crowd away from the bridge and out the gates, which were locked up tight
behind them. Chessboard Land was re-closed before it had even been opened.
I spoke with some of the guests, and all of them were shocked at the Red and White Queens' behavior.
"I never imagined that royalty could behave so disgracefully! I am fortunate to be able to fly again after being hit by those blasted shears. This revolting display is further proof that the other islands have not reached the fine pinnacle of civilization that we maintain on the Isle of the Sacred Mountain." said the Winged One visitor who had been injured. "This will certainly teach me to come down from my home ever again!"
"This is most disappointing." said the representative of the Isle of the Crown. "Alexander and Cassima had high hopes that a new era of open borders and cooperation could begin with their reign, but apparently the Red and White Queens aren't willing to cooperate. At least, not with each other!"
"I was looking forward to seeing Chessboard Land for the first time, but it seems that it will be a long time before the Queens are willing to let the public in. If they ever stop fighting at all, that is," Prince Cocteau from the Isle of the Beast said to us.
This dispute is nothing new for the queens, who have fought since the day they were born. One must wonder if sibling rivalry is taken too far on the isle of Wonder. Rarely have the Queens come to blows, and one can only hope that the sisters will reconcile their differences and revisit the Grand Opening of Chessboard Land to the public.
Green Isles Takes Steps Towards Peace, Open Their Borders.
Edit
By Harold Fort
The Market on the Isle of the Crown celebration for its grand re-opening.

Under the new and much improved rule of King Alexander and Queen Cassima, the Land of the Green Isles has seen numerous changes for the better in the last few months. After years of hostility, animosity, and suspicion—all proven to be the work of ex-Vizier Abdul Alhazred—the Isles have begun making significant changes in their attitudes of late, leading to some developments of historic proportions. The restored ferry has lead to the re-opening of the marketplace on the Isle of the Crown; the Winged Ones are replacing the deadly Cliffs of Logic with an immense staircase; the gnome guardians of the Isle of Wonder are taking a long-overdue vacation; the Isle of the Beast is taking its own deadly traps; and the Isle of Mists has granted permission to all mapmakers to officially place it on kingdom maps.
With the ferry back in working order and the Isles at peace once again, the Isle of the Crown's bustling marketplace is bustling once again.
Years of slow-going and then dead trade routes brought the market to a grinding halt three years ago, leaving the pawnshop and the bookstore the only thriving businesses on the island. "Even so, my business was slow at best, and I may have been forced to close my shop if things hadn't turned around," said Hakim, owner of the pawnshop.
But now the citizens of the Isle of the Crown can again venture across the street from those storefronts to the Fountain Plaza and find merchants selling all manner of wares, from candy to maps to clothing. A local blacksmith has set up a small forge in the plaza, and the Crown Pint hotel has been re-opened now that there are visitors once again. One can even stop in at the newly remodeled Four Winds offices to pick up a paper or read our bulletin board of articles.
"Seeing the businesses hold their Grand Opening of the marketplace brought tears of joy to my eyes," said Queen Cassima. "I remember going there with my parents as a child, getting candy, asking for a new dress, and playing in the fountain! The Green Isles have been through so much, and it's wonderful to see the people progressing out from the dark days and into a bright future."
The Gnomes Take a Vacation
Edit
The Gnomes of the Isle of Wonder on vacation

Since the unrest reached its fullest fervor, the Isle of Wonder has enlisted the quintuplet "sense gnomes" as guardians of its shore. Each born with one overdeveloped sense, they served well to identify trespassers and rid the Isle of them when need be. Our own King Alexander had to deftly get around them when he first came to the kingdom.
However, with trust restored, the gnomes' services are no longer needed, and the five brothers are planning to head out into the world on an overdue vacation.
"I can't wait to taste Serenia's pies, even if they're blurry in my eyes!" said Grump-Frump, whose strong suit is his sense of taste.
"In Tamir, they've so much music to hear, I cannot wait to lend them my ear!" claimed Grovernor, who hears just about everything.
The brothers are packed and ready to go on forth and experience the smells, sights, sounds, tastes, and touches of the world. The Isle of Wonder monarchs, the Red and White Queens, are confident that their shores will be safe from trespassers who may mean their island harm, with King Alexander and Queen Cassima in charge. They both gave an emphatic "no comment!" when asked if there was a plan for a second go at the Grand Opening of Chessboard Land (see page 1 of this issue), however.
The Cliffs of Logic Come Down
Edit
For centuries, the Isle of the Sacred Mountain's upper reaches have been barred to visitors by the fact that they are utterly unreachable except through magic. The Winged Ones' have always only sent emissaries down to the human world to conduct official business, and staunchly refused to take down the Cliffs of Logic that barred those without magic or the power of flight from visiting their city.
This refusal stemmed from the Cliffs' involvement in an ancient prophecy, a representative of the Isle told the Four Winds. Once King Alexander proved to be the subject of said prophecy by conquering them, their purpose was served and they were no longer necessary. When asked if the removal had anything to do with the Crown's requests, the representative claimed that this was a matter of coincidence only.
In place of the potentially fatal questions, a grand and gorgeous staircase is being built into the cliff side. Winged One architects are personally overseeing and working on the construction. "We wouldn't trust the design and building of such a magnificent and important staircase to any one not from our island," said the foreman. Nor will they accept help from Shamir's magic.

The staircase is scheduled for completion within the next year. The Four Winds will continue their coverage of the construction, and we are working on securing an insider's tour of the Winged Ones city upon its completion.
Isle of the Beast Clears the Path
Edit
While under the enchantment that stole his human face from him, Prince Cocteau III of the Isle of the Beast was never bothered by the traps that kept visitors from his island—among them, a boiling hot pond, a deadly stone archer, and nigh-impassable foliage—as they both kept people out and maintained his isolation. Now that he is human again, literally a changed man and happily married, the Prince was among the first to open up his island to visitors.
The magical foliage that would bar entrance to the hedge maze that lay before his castle home has been disenchanted, and the boiling pond that covers the main path has s sturdy bridge across it now. As well, the stone archer with his deadly aim is being taken down from his traditional perch on the stone wall one passes through while walking towards the castle.
"My ancestors commissioned the archer and hunter statues on that wall generations ago, but since the archer has become a deadly menace, it's simply not safe to have him up there any longer," Cocteau said.
"The Isle of the Beast is a now a place of Beauty—figuratively and literally," the Prince continued, in a reference to his lovely bride. "And it should be open to visitors so that they, too, can see and enjoy it. I've been lonely and alone here too long."
The Prince is, however, keeping the hedge maze in place. His wife Beauty enjoys caring for the plants that make up the maze, and there are a number of enjoyable areas to be found within the maze that offer peace and solitude when one seeks it, Prince Cocteau tells us.
The Isle of Mists Is On the Map
Edit
The most mysterious of the islands in the Green Isle kingdom has long been the Isles of Mists. Only a few have been aware of its existence at all, and even fewer have ever visited. For these reasons, most maps of the kingdom have never had the island marked down, which has lead to some unfortunate ends for ships that attempted to travel through what was believed to be open water.
The long-reclusive druids are now allowing maps to be made of their island
Edit
But the Isle of Mists and its druid inhabitants are taking steps towards openly joining the kingdom of the Green Isles, and their first step has been informing mapmakers in the kingdom of their existence. New maps are being made and sold all over the Isles, particularly in the re-opened marketplace, that show the Isle of Mists at long last. "They are in a much better position to do so when they know we exist in the first place," the Arch Druid explained.
Though the Isle is not yet accepting unannounced visitors, much less tourists, this is an important and historic step for the reclusive druids and speaks volumes for their support of the new monarchs and their efforts.
All of the Isles have made their support quite clear, in fact. To some the steps taken may seem simple and obvious, but for a nation that has dealt with so much paranoia, mistrust, lies, and betrayal recently, they are indeed difficult steps to take. That they have been taken and that further plans are in the making points all the more to the dedicated leadership of Cassima and Alexander in healing the wounds of this land.
News in Brief
Edit
Captain to visit troops. Captain Saladin of the Royal Guard to deliver a brief speech to honor those troops that were injured during the conflict with Abdul Alhazred.
Tourism Increases. Tourism between islands in the Land of the Green Isles has increased dramatically over the past several months. Most islands are very welcoming to the increase in traffic with the exception of the Isle of the Mists. The island, which is inhabited by druids, has always been isolated and spokespersons for the island did not respond to our inquiries for comments before press time.
Daventry Imports. Due to newly established trade routes between the Land of the Green Isles and the Kingdom of Daventry shops are now stocking more and more imported items. The most popular items are elf-made shoes and hand-carved wooden owls.
New theatre season begins. The Isle of the Sacred Mountain Theatre Company has announced the start of it's latest season. Season highlights include "Othello" by William Shakespeare and the theatrical debut of "With All My Will" by the late Cynthia Cox.
More "grounded" development on the Isle of the Sacred Mountain? Talks have begun among developers for new developments on the Isle of the Sacred Mountain that would be more accessible to the recent surge of non-winged visitors to the island. Reception among the winged citizens have been mixed to the idea, with some believing it would be improper and completely driven by financial desires, while others believe it would help attract more visitors that would be willing to learn more about the island's history and culture.
New cache of books discovered on Isle of Wonder. Although he already possess thousands of tomes, the Bookworm is overjoyed at the discovery of dozens of new books at his home at Exclamation Point on the Isle of Wonder. "There are some real treasures in this new batch, I can't wait to devour them!" he said upon perusing his latest acquisitions.
Isle of the Dead expeditions planned. Despite numerous failed attempts, several intrepid explorers at the Isle of the Crown Historical Society are planning a new expedition to locate the mysterious black mountains of the Isle of the Dead. Previous ships that sought to discover the occasionally seen but never explored island have never returned.
Ask Crispin
Edit
This month, Crispin, renowned wizard and spellcaster, answers magical mysteries and casting quandaries. Magic wand on the fritz? Accidentally cast yourself into the middle of a hurricane? Ask Crispin!

Q. Dear Crispin,
My mother-in-law has been staying in our house since April, and she's been driving me up a wall! I was recently reading the September issue of Shapeshifters Monthly, and I found a teleport spell that I could mix into her blackroot tea. I followed the instructions to the letter, and instead of teleporting her away, I only succeeded in turning her into a nanny goat. Now all she does is bleat at me all day long! In the next issue of Shapeshifters Monthly, they printed a retraction warning that there was a misprint in the teleport spell instructions! Now I'm stuck with a very angry wife and a mother-in-law who keeps head-butting me and eating my starched hose! What do I do?
I. Fudgdit
A. Dear Mr. Fudgdit,
I would suggest you read my newly-published book, Crispin's Guide to Spellcasting, under Section B52, Article 7, Lines 54-72, under the heading "What to Do If You're Trying to Teleport Your Mother-in-Law and Accidentally Turn Her Into a Goat." Follow those instructions to the letter and your mother-in-law should be back to her good old ornery self in about six to eight weeks. In the meantime, you may want to put some newspaper down on the floors and pad those extra-sensitive areas against the head-butting. Just be glad you didn't turn her into a very large carnivorous meat-eating bird with a sharp beak.
Ed. Note: Shortly after this article was published, an addendum was printed to Crispin's Guide to Spellcasting, stating that there was a misprint in Section B52, Article 7, Lines 54-72, under the heading "What to Do if You're Trying to Teleport Your Mother-in-Law and Accidentally Turn her Into a Goat." According to the addendum, following the instructions would cause the intended target to be turned into a very large carnivorous meat-eating bird with a sharp beak. Our condolences to Mr. Fudgdit and the Fudgdit family.
Q. Dear Crispin,
I was walking by a stream the other day when I found a big old bullfrog sunning himself on a lily pad. I was thinking about the old fairytale and decided it might be nice to have a prince around, so I picked him up (it was no easy task, let me tell you) and took him home, where I planted a big fat kiss right on his nose. Not only did he NOT turn into a prince, but now I've got warts as well!! Do you have a spell I could use to turn the frog into a prince, and maybe something for my warts?
Princess Rubella
A. Dear Princess Rubella,
Have you ever heard the saying, "You can take the frog out of the pond, but you can't take the pond out of the frog?" No? Hmm, yes, well, that's probably why you're stuck with an unhappy frog and warts on your hands. Did it ever occur to you that maybe the frog is a bit disappointed that you didn't turn into a bullfrog when you kissed it? If I were you, Princess, I would start going out at dusk with a net and catching flies. As for your warts, you might want to consult Crispin's Guide to Spellcasting, Section F13, Article 14a, Lines 26-44, under "What to Do If You Are Unsuccessful in Turning a Frog into a Prince." In the meantime, be glad he didn't turn into a prince. Just ask Princess Rosella.
Volume 9, Issue #3 1817 DC
Edit
Vizier found guilty, defense falls apart in the courtroom
Edit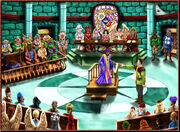 By Paulan Jayse
King Alexander confronts Alhazred at the former vizier's trial.
Abdul Alhazred, former Vizier to King Caliphim of the Land of the Green Isles, was convicted today on two counts of murder in the first degree, one count of high treason, two counts of attempted murder, and several lesser crimes stemming from his service to the country. Deliberations lasted only one hour, unusually short for crimes of this magnitude. When the jury announced its verdict, Alhazred merely narrowed his eyes and glared menacingly at each juror. Cheers arose from the gallery, forcing the tribunal to call for order. After the verdict was read, the judge asked Alhazred if he had anything to say. The former vizier turned to King Alexander, the prosecuting attorney, and said, "You will rue the day that you crossed Abdul Alhazred. There is no prison that can hold me! One day soon you and all the world will be at my mercy!"
Following Alhazred's statements, the tribunal announced a sentence of life imprisonment, and ordered Captain Saladin to remove the defendant from the courtroom. Alhazred will be held for a short time in his cell in the Castle of the Crown before being transferred to an undisclosed location for the remainder of his sentence.
King Caliphim and Queen Allaria were relieved that Alhazred was finally brought to justice. "I wish I had been more careful in who I trusted with such a position in my service," Caliphim told the Four Winds. "I am relieved that my error in judgment has, in the end, been righted and not caused irreparable harm to this Kingdom, but even so, there are scars yet to heal here. With Alhazred found guilty and imprisoned, I feel this process will only be easier, however."
Disregarding the old maxim that "a man who represents himself has a fool for a client," Alhazred served as his own counsel in the proceedings. He argued to the court that he could not be found guilty of murdering two people who were still alive, and that sufficient evidence did not exist to prove that he was conspiring against the crown. He asserted that the gatekeeper from the Land of the Dead, one of the prosecution's witnesses, was testifying based on hearsay, and ultimately tried to claim that he had been framed and impersonated by the genie Shamir Shamazel whom he accused of secretly serving some master other than himself. Shamir himself gave a particularly damning testimony of the former Vizier's actions. When the genie testified against him, Alhazred additionally argued that the testimony was inadmissible, as the genie was under the control of King Alexander, who might very well control the genie's answers. This claim was made despite the entire court witnessing King Alexander instructing Shamir to tell the uncolored truth in all of his answers. Alhazred also tried to shift some of his crimes onto Captain Saladin, who once served him willingly and even helped him detain Princess Cassima in her quarters.
Alhazred's main strategy in the trial came down to attacking the credibility of as many prosecution witnesses as possible. Even the jury, consisting of many well respected individuals from the Land of the Green Isles, was not exempt from his accusations of bias and lack of credibility.
The tribunal ruled against the vast majority of Alhazred's objections, as the Vizier had nothing in the way of proof of his claims. In contrast, the prosecution methodically laid out its case, calling witnesses from each of the Green Isles. King Alexander gave his own testimony, detailing what he discovered during his now famous initial journey through the kingdom. Included in this was a detailed description of a room in the castle which once only Alhazred could open. Held within were sacred treasures from all the isles, which Alhazred had taken to create infighting and spread discord across the land. Alhazred argued that Alexander did not have the proper warrant to search his private room, but the tribunal overruled him and admitted the King's testimony.
Word of the verdict has quickly spread through the islands, and has been the cause of much celebrating. There were spontaneous sales in the Isle of the Crown marketplace and drinks at the Crown Pint were on the house for a full hour. The Winged Ones report that they celebrated in a much more dignified manner, toasting to the triumph of justice over evil in their banquet hall. "We all trusted Abdul Alhazred, assuming that he was a good man. In doing so, we allowed our kingdom to be plunged into chaos," said Lady Ariel of the Winged Ones. "He is guilty not only of treason, but of basic moral bankruptcy. He certainly is a poor ambassador for the human species. Flawed though they may be, he is simply the worst of the race entirely."
The Crown has been evasive about inquiries about where Alhazred's full sentence of life imprisonment is to be carried out. Captain Saladin has stated that Alhazred is considered too dangerous to be kept in the castle's small dungeon, and it has been deemed safer that the ultimate location of his prison be kept a Crown secret, as past known associates of the former Vizier were both quite powerful and underhanded indeed.
Queen Cassima
Speaking as a representative of both the tribunal and the royal family, Queen Cassima stressed that now is not the time to blame Alhazred, but to make sure that those like him never rise to power again. "Abdul Alhazred abused the trust of a vast number of people. We must never allow this to happen again. He will be sent to jail as an example to others, but the burden rests on the citizens of the Land of the Green Isles to set a good example. We must all live our lives to inspire others, and we must be wary of those whose motives appear to be suspect. This is our nation, our home, and we must be ever watchful that it does not fall into the wrong hands again."
New Hot Air Balloon Service to Open on Isle of the Sacred Mountain
Edit
by Hoddin Hocks
The Mountgo Brothers floating over the Isle of the Crown
The Isle of the Sacred Mountain has long been a secluded one, what with the fact that one must actually fly to get there. For people with wings, it's no problem at all. But for "mere humans" it's a far different story. That's why the Mountgo Brothers Hot Air Balloon Service plans on changing that.
"We've always had a fascination with the sky," the older of the two brothers, Amar, told the Four Winds. "Ever since we were little, we always looked to the heavens for guidance."
And looked to the heavens they have. Amar and his brother Ryoo Mountgo are on the verge of opening a hot air balloon service that will tour the Isle of the Sacred Mountain and believe they will turn a significant profit. Natives of the Isle of the Crown, the two brothers grew up learning everything about aviation that they could. Amar has dedicated his life to trying to bring man to the clouds, studying birds and what literature there was on the Winged Ones to learn what made it possible for them to fly. "The secret, you see, is that the bones of birds are Mountgo brothers (Amar, left, and Ryoo, right) are excited to launch their business and their first balloon.

hollow. They are so light, it takes much less effort for them to lift themselves into the air than you might imagine! But as men, we do not have this advantage." Realizing this, he tried studying magic carpets, but found them unreliable. "For every one that will fly you into the sky, you will find at least ten that are duds, fakes, or faulty. Magic is an erratic thing!"
Ryoo, the younger of the two, has made the study of science his goal, from the weather and winds to what he calls 'aerodynamics.' Well-traveled for a young man, Ryoo told the Four Winds that he first saw balloons like the one he and his brother have made in far-off lands. "It was stunning to see! With these balloons, they could lift into the air, see the world the way only birds do! I learned everything I could about how it was done."
Ryoo gave the Four Winds a detailed explanation of how it all works, using words that this reporter admits to having some trouble following. In layman's terms, he then explained that the air used to fill the balloon makes it rise up, even when its load is heavy. Then the winds are used to guide the balloon along its path. When asked about the unpredictability of the winds, Ryoo laughed and confidently replied that the winds are more reliable and predictable than most people think. The brothers are more focused on trying to predict what their customer base will look like--although on that note, too, they have a fair amount of confidence.
"We expect both foreigners and natives alike will be excited to see the isle," Ryoo stated. "The Winged Ones don't take kindly to visitors, but we think we found a way to allow people to see the Isle the way it was meant to be seen."
When asked directly what the Winged Ones think of the Mountgo Brothers' business, a representative replied with the following statement, "As with all businesses seeking to commerce on our island, we are allowing the Mountgo Brothers to proceed but on a probationary basis. An official approval from Lord Azure is pending following a full review and inspection of the facilities." Despite this, the Mountgo Brothers are not worried. "We believe that Lord Azure will fully sanction our business once he sees it in action." Our sources, however, tell us that Lord Azure is only allowing the business to operate for the time being because of a personal request from His Majesty, King Alexander.
The inaugural flight will take place two weeks from now, and big names are already attached. The brothers recently provided us with a list of confirmed visitors, and it appears that almost all of the isles are sending representatives. Among them are Prince Cocteau III and his wife Beauty from the Isle of the Beast, an unnamed representative from the Isle of the Sacred Mountain, and the Red and White Queens from the Isle of Wonder.
"I'm very much looking forward to seeing the Isle of the Sacred Mountain from a bird's eye perspective," the Red Queen stated in an exclusive interview. "After all, I received a personal invitation from the Mountgo Brothers themselves."
The White Queen, on the other hand, had something different to say, "That Red Queen stole MY personal invitation! I will of course be attending regardless, as a chess piece of my stature should always make an appearance at such functions."
In addition to these names, there have been growing rumors that King Alexander and Queen Cassima will themselves attend. The Crown would neither confirm nor deny these claims. Captain Saladin provided the following statement: "At this time, we cannot say who will be representing the Crown at the inaugural flight, but rest assured there will be a representative on hand for the occasion."
The Four Winds has a reporter lined up for the inaugural flight as well, and a full review of the experience and the service will be forthcoming in a future issue. Plans for an exclusive Four Winds tour of the Isle of the Sacred Mountain via balloon are also in the works and should enable us to provide our readership with an unprecedented feature article on this reclusive island. The Mountgo brothers are even hopeful that their business will pave the way for more open and friendly relations between the Winged Ones and the other Green Isles citizens; in Amar's own words: "With the increased exposure and admiration of their lovely city, the Winged Ones will surely begin to consider opening their gates to foot traffic as well!"
The Druids Comes Out of the Mists
Edit
The Isle of the Mists from the bow of the ferry

It was early morning, and a thick, heavy mist had set itself upon the waters surrounding the ferry as it sat, seemingly in the middle of nowhere, about thirty nautical miles off the coast of the Isle of the Crown. By personal invitation, I was accompanying King Alexander, a small contingent of guard dogs, a few dignitaries, and a strange unidentifiable animal from the Isle of Wonder that had reportedly stowed away on the one o'clock stop the previous week and refused to get off since. We stood uneasily aboard the ferry, gazing out at…nothing but the mist, actually.
"Try not to fidget, Mr. Rayner," the king said to me in his commanding yet compassionate voice, "I promise you, it will appear." My attempts to inquire further into our journey here were met with stoic silence.
"Before the ferry was shut down, I used to run trips here sometimes," the ferryman confessed. "I remember King Caliphim made a point to visit at least twice a month. No one outside of the highest court officials were supposed to know. But see, that's how this place became myth and legend. A few blokes who couldn't remember their head when they got into their cups, talkin' mysteriously about 'privileged information,' and the next thing you know there's whispers all over the Isles. Seems like that's how these folk wanted it, though."
The hour wore on and I was beginning to get a little skeptical. Just as I began to suspect that I, or possibly all of us, was the butt of a joke seriously lacking in humor, something changed. The mists began to move.
Every single particle, even those that had soaked into to my clothing, stirred in the air around us and rushed straight out over the port bow at an incredible speed—but there was no wind! Hurrying to the side of the ship, I eagerly looked out over the horizon. Suddenly, I found myself the wide-eyed youth of yore at my grandfather's knee being told the legends of the land. My skeptical reporter's mind had long since dismissed most of these stories as nothing more than words to scare children, but today I found one of those stories to be true: the Isle of Mists.
The mists concentrated themselves together in one spot on the horizon and then, as if breaking under pressure, erupted in an eerily silent, outward explosion. The great white light that followed was so intense that I had to avert my eyes. When I opened them once again, I saw to my amazement that the mists had thinned out to a much less dense covering, though still thick by normal standards, hovering about what was, without question, a small and previously undetectable island. I was so astounded that I could not tear my eyes from the mysterious isle as the ferry began moving closer through the waters.
Despite all the legends built up about the island and its inhabitants, the druids of the Isle of Mist are a very simple people. Their small village consists of a few modest homes surrounding a central fire pit a short walk from the shore. The homes themselves are actually built into the trunks of large oak trees, the doorways often nestled between larger roots that both flank the entrance and serve as a front porch. I learned from one of the druids that oak trees are sacred to the druids of the isle; they believe that living in the oaks brings them closer to Mother Nature, whom they worship and revere above all else. To the east of the village is a peculiar circle of stone structures that seems to have been there since the time of the Ancient Ones. This sacred circle is a ceremonial ground, where the druids will often congregate as a community, as well as being the place where they perform their most important rituals. King Alexander, it seems, has some experience with the profound power of this place, as I could not help but notice that he seemed wary of the circle and stepping inside it. I asked our king the reason for this, but a murmur about "fire and rain" was the only answer. Were the druids always as friendly towards our king as they seem to be now?
The meeting itself was to discuss the opening of the Isle of Mist to the rest of the kingdom as well as whatever other visitors come to the Green Isles' shores who are of a friendly disposition. King Alexander deliberated with the Arch Druid, the leader of the druids, and the ferryman for a few hours about the addition of the Isle of Mist to the regular ferry route that goes around the kingdom weekly (for the new schedule, see the Travel section of The Four Winds, or inquire at the ferry office on the Isle of the Crown, or with Captain Hassan directly at any of the official docks during his routes). There was also discussion of revising the current, and apparently hidden, trade routes for supplies going in and out of the Isle of Mist, among other mundane matters pertaining the opening of the Isle. During these deliberations, I was allowed to explore certain portions of the island. Though the Druids are a very humble, they are also a very xenophobic people. The Isle of Mists has reportedly existed since the creation of the kingdom itself, its existence acknowledged in a secret section of the Green Isles charter. The Druids decided to live a secretive life away from the other islands such that, in their words, they would not be "tainted by the ideas of others and so that we might become closer to the spirit of Mother Nature." This reclusive outlook of their religion caused the druids to continue to favor secrecy over openness, and the Crown has agreed throughout the years to not betray their wishes to remain undisturbed, so long as their loyalty was true.
The Arch Druid One druid was quick to state to me the situation as it exists now. "We still want nothing to do with you," he told me flatly. "Just because we have revealed our island, it does not mean we will tolerate your presence here! Our secrets are our own and that is just the way they will stay!" Apparently, not every druid is happy about this new policy of opening their borders to the rest of civilization.
As interesting a place the Isle of Mist is, I cannot be certain it lives up to the myths and legends we've all heard. Though lovely and emanating a sense of peace I've seldom personally experienced, and with some mysteries yet remaining to it—there were parts of the island I was strongly advised to not investigate, and I was given only vaguely-worded, but chilling, warnings when I inquired as to why—it was not the fantastical place I'd heard of as a child, full of awesome displays of magic, trees that will devour trespassers, animals that spoke, and so forth. The druids are simple, and I cannot say I saw any particularly impressive magic while I was on its shores. Indeed, I cannot say I saw any magic being used.
However, should the borders be opened to one and all, it will gives the rest of the Green Islanders a unique chance to learn more about this reclusive nature-worshiping culture that is as important a part of our kingdom as any other of the Isles. So far, while the Isle has been added to the trade routes, the druids are not yet willing or perhaps not yet ready to allow visitors to come freely to their home. Or maybe they believe it is we who are not ready? The men and women of the druids are the true mystery, make no mistake, and I believe it shall be some time yet before we know all of their secrets, if indeed we ever reach that point.
Interview with Queen Valanice
Edit
by Black Widow
In the third installment of Black Widow's interview series, the Four Winds' arachnid reporter met with Queen Valanice of Daventry in the Queen's lovely and intimate rose garden.
Black Widow: (settling onto a rose) Queen Valanice, I have to say—this garden is simply amazing.
Queen Valanice: Thank you, Ms. Widow. I take pride and pleasure in tending to my roses.
BW: Yes, those are nice, too.
QV: I'm not sure I follow?
BW: The bugs here are so well-fed; it's delicious! I'm stuffed! I haven't been this full since Husband Number 3. He was a big one.
QV: I…see. Shall we, ah, continue to the interview, then?
BW: Of course. So, Queen Valanice—tell me about yourself. Where are you from?
QV: I grew up on the island of Kolyma.
BW: Kolyma? I've heard of it, but I don't know much about it. What details can you divulge, Your Highness?
QV: It's a lovely land, not very crowded, but there are some good people there. We had our share of problems like any other land, of course--for a time, Count Dracula and his vampires terrorized our people. That was a frightful time...everyone was afraid to go out after dark, and suspicions ran high when anyone acted strangely, often even when they were acting perfectly normal. My grandfather, the King, had his knights hunt down the vampires, but the Count eluded them for years. Eventually, Graham killed the Count when he journeyed there to rescue me.
BW: Rescue you?
QV: Yes, I was imprisoned in a magical land that was only accessible through three locked doors in Kolyma, in a tall tower made of quartz. A witch named Hagatha locked me up there.

Queen Valanice of Daventry
BW: Really? Why was that? …there wasn't an evil vizier planning to marry you to take over a kingdom, too, was there?
QV: (laughs) No, it wasn't quite like that. Hagatha was jealous of my beauty, she said, so she locked me up where no one could see me or find me. It was Graham who rescued me from spending the rest of my life there; he saw a vision of me in the Magic Mirror. He says he fell in love with me at first sight that very moment.
QV: As I said, the Magic Mirror showed me to him, and he went through many trials in Kolyma to find and rescue me. When he came through that door…I knew it, too, then. It really was love at first sight. We met and I felt I'd known him all my life. We were married before we even left Kolyma for Daventry.
BW: Love at first bite, mmm, I know what that's like.
QV: I believe I said first sight, Ms. Widow.
BW: Ah, yes. Yes, of course. What was life like in the tower?
QV: Lonely, mostly. Hagatha would visit on a rare occasion, mostly to torment me. It was strange -every time she came, I asked her why she was keeping me there. She said because she wanted my beauty to be hers, and if she couldn't have it, then she would keep the world from seeing it. But she never cast any spells on me, or did anything to steal my appearance that I know of.
BW: That does seem odd. Pardon my being blunt, Your Highness, but in that case, why did she keep you alive at all?
QV: I'm not sure. I was convinced for the longest time she would kill me, and then I wondered why she hadn't yet. I was starting to suspect there was some other reason why she had me there in the first place, but that was about the time Graham rescued me.
BW: Your family must have been glad that you were rescued, even if your handsome King did sweep you off to his kingdom afterwards?
QV: Yes, they were quite relieved and happy I was saved. My parents still live there, and I visit when I can, but we're all rather busy. My father is now King Cedric of Kolyma, and my mother, Coignice, was once a miller's daughter. My grandfather was still the King when I was growing up there. And though I shall always love Kolyma, I'm afraid after my kidnapping and imprisonment, my childhood home was bittersweet for me at best. I was ready to live in Daventry and start my new life.
BW: What a hero indeed! I see where King Alexander gets it from. Sailing off to a foreign land, killing the villain, saving the girl in the tower and living happily ever after. The apple doesn't fall too far from the tree, does it? for it.
QV: My children do both get their bravery and sense of adventure from their father, but violence is not something they've ever taken to, nor have we encouraged it. Don't forget, my son didn't kill Alhazred, and Graham didn't kill Hagatha, either. But we never heard from or of her again. Maybe she ceased feeling jealous of me when I became a married woman -- who knows? I try not to dwell on it, to tell you the truth. Of the many difficulties my family has faced, what Hagatha did pales in comparison, and thinking about it would only cause grief and paranoia that I have no answers for. And after all, in the end, all she did was lock me in a tower. It could have been far worse.

Map of Daventry, The Green Isles and Kolyma

BW: I can imagine. Your son's kidnapping must certainly have been more traumatic.
QV: That…that was the most horrible thing I've ever been through -- that any of us have been through. Years of not knowing, searching and finding nothing…I could never accept that he was dead, but things looked so hopeless for so long.
BW: And then the dragon began terrorizing your country.
QV: Yes…that was even harder than when Count Dracula terrorized my homeland. The three-headed dragon ravaged its way across the countryside of Serenia and after years of rumors and horrible stories from other lands that suffered at its hands. We tried to help, but there wasn't much we could do for anyone else, and then it finally came to Daventry...and there it stayed, making a ruin of our beautiful home. I often wondered whether we could've done more before it reached us, helped our neighbors more than we had and perhaps it could've been defeated years before. So many innocents died, both from the destruction it caused and from the sacrifices it demanded of it.
BW: Sacrifices?
QV: Yes...one maiden every year. It pained us so to give in, but what else could we do? Every knight who went after it never returned, even when they went forth in great numbers. One life saved hundreds each year... but what we chose still haunts us both. And then our daughter, Rosella, was almost lost to us at the dragon's demands. She's such a brave girl, she always was--even then, she held her head high and went towards her fate with pride. She told us then and afterwards that she knew somehow it would all work out for the best. I never could tell if she said that to make us feel better, or because she truly believed it. It seemed so hopeless, after all, but she's always been one to believe in adventures, fairy tales, and happy endings. Still...the day she was taken from us and brought to the dragon was when I finally came close to breaking. If I had heard word that she was gone, too…I'm not sure how I would've survived that.
BW: You're quite a strong woman to go through all that without giving up. But luckily your brave, handsome son came to everyone's rescue.
QV: And the darkest day of our lives became the brightest…for a time.
BW: Yes, your husband's heart attack interrupted the celebration, I understand? I'm surprised, from what I've heard, he's quite spry indeed for an older man. Lucky you, landing a catch like that!
QV: That has a lot to do with how Rosella saved him, but thank you. She traveled to Tamir and found a magical fruit that saved his life and gave him the health and vigor of a man ten years younger at least. Then at last we could finally celebrate properly and welcome home both our son and daughter.
BW: My, my. I don't envy you your many trials, Queen Valanice, but I am impressed at how you've come through them.
QV: Thank you, Ms. Widow. There have been hardships, true, but I am happy; I have a family that I love more than anything, and we've come through those trying times only to be stronger.
BW: And speaking of family and love, what about those rumors about your daughter and her prince charming tying the knot? QV: (laughs) There've been no big questions asked that I'm aware of, but I do have a good feeling about those two. Rosella has always had a hard time even sitting still, but Edgar is quite patient and adores her so much. However long it takes, I am certain he'll happily wait until she's ready.
The Port Town of Bruce Builds a Bright Future
Edit
by Harold Fort Visiting the small port town of Bruce in the country of Llewdor today, it's hard to believe that until a few years ago it was a community that lived in fear. The only testament to those days is the looming old house on top of the mountain that rises nearby, with one long and dangerously swerving road leading up to it. Today, the town is growing as word of its freedom spreads and it is on its way to becoming quite a bustling port on the eastern coast of the continent of Tanalore.
"Sometimes I would go months without being able to restock my shelves," says Robert, the shopkeeper of the general store. An older man and lifelong bachelor, he's lived in Bruce for years with just his dog Kenny for company, and recently bought the neighboring tavern. "And more often than not I would have to turn a blind eye to the fact my new stores were coming from pirates. It was impossible to keep an honest business running.
Even then, keeping my profits up was hard, too. That nasty old wizard was a harsh bargainer and he'd never pay a penny more than he believed the goods were worth. Which, let me tell you, was far less than I'd have preferred! Still, with power like that and his temper, it was best to just smile and nod and not risk it."
The shopkeeper isn't the only one who remembers the temper of the old wizard. A lovely young barmaid, who gave her name as Sheela, told the Four Winds more. "He wasn't much for talking, or even drinking, really. But when he was in town, oh, everyone knew right fast about it! Word spread quick, and even if it didn't, you'd know by how the town just got real quiet-like. The days he was calm, it was nice and over quickly, but the days when his temper was on the rise, those were bad days. The sky'd rumble and he'd scream at anyone who had the bad luck to get in his path. One of those days, a few of the bandits who used to live here, they'd had a few and decided they'd show him who was in charge around here. Never did see those two again, and they were regulars."
Now imprisoned in the town's jail, the other two members of a former gang of bandits who once plagued the town confirmed the story. They could give no further details of the fate of their former cohorts, but they haven't seen them since the confrontation years back.
Gregor Newville, the new sheriff of Bruce, speaks to the brighter days the town has come into. "No one knows what happened to the wizard, but we know he's gone and it's quite enough for us. We've begun looking forward now that we don't live in fear. Why since he disappeared, we've established this jail and I've stepped in as sheriff, and we've a new portmaster to keep the docks running properly as well. Bruce is finally seeing happier days, and it's about time."
Portmaster Haden agrees. "It took hard work to oust the bandits and pirates, but we've managed. We've got two full docks now, and regular shipping is being established. Our trade routes with Tamir were the quickest to be established, and the fairy Genesta has been a great friend to Bruce. It goes to show you, it's not magic that makes a person bad, it's the person that makes the magic bad. And that Manannan, now, he was as bad a person as they come."
No one could completely confirm the rumors that over the many years he oversaw Bruce and the nearby countryside, that Manannan had kept a number of boy slaves who met unknown but dire fates. "My momma used to tell me if I wasn't good, the wizard would come take me in the night and make me a slave! She said she knew a boy once who was mean to his mother and he was stolen by the wizard, and no one ever heard from him again," said a young boy of the village. "And everyone knows the story about how he would turn people who go up the mountain into animals, and then kill them and eat them for dinner!"
King Alexander's story is well known to the readers of the Four Winds and citizens of the Green Isles; he has been very frank and honest about his meager beginnings in this town and in the wizard's stern house. Nor has he been shy in his claims that the wizard was a murderer many times over. But it seems his full story was not well known amongst the villagers of Bruce, despite a brief trip the King is said to have made there before his first journey to the Green Isles. None of the villagers were entirely surprised at hearing these rumors about the wizard and his demise, however.
"Some of the villagers have said they thought the wizard may have met his end at the hands of one of his slaves," Portmaster Haden said. "I'm glad to hear it confirmed and that the boy has found his fortune!"
Sheela and Robert in the Port Town of Bruce

"That skinny boy who came in once or twice! Aye, I remember him," Sheela told us. "He was a young one, but handsome, if he'd been able to eat a little better. A king now, you say? Is he married?"
"Polite boy, yes, I remember him now. I believe he said his name was Gwydion at the time," Robert recalled after seeing a picture of the King. "I had thought he might've met his end at the wizard's hands. I'm glad to hear he's alive and well. He was quite nice to Kenny, too."
Though the sheriff never met Alexander, the bandits in the jail did grumble about the slave-turned-King and claimed he stole from them. Sheriff Newville contends Alexander probably just took back what was taken from him in the first place.
Attempts were made to traverse the mountain and investigate the wizard's old home—which has, supposedly, a new resident, a researcher of sorts—but the dangerous path was too treacherous to climb with any guarantee of safety.
Even without seeing the wizard-less home, it is clear to see that it is a happier time for the port of Bruce, and an even brighter future lies ahead. The town is having its first mayoral election next year, and is in the process of establishing trade routes that stretch as far as the shores of Daventry and Serenia.
Volume 9, Issue #4 1817 DC
Edit
Monthly Archives: June 1818
Edit
Monthly Archives: August 1818
Edit
Trading With Roo
Edit
Posted by The Ants on June 27, 1818 D.C.
The hot summer sun bore down on the desert in Etheria. The Green Isles was a tropical locale, but had vegetation to absorb the heat and a breeze to make the weather more appealing. It didn't help that dizziness lingered from the trip through the magic portal to get to Eldritch. Black Widow had found one left over from when Archduke Yipyap came over to survey the Isle of Wonder for a summer home. Today's assignment was to talk to a kangaroo rat that lived at the edge of the desert. Queen Valanice of Daventry had traded with this fellow during her quest in Eldritch. I wasn't fond of rats; one had bitten me as a child when I was emptying a chamber pot. But this was a kangaroo rat! He couldn't be too bad, could he? I wiped my brow and saw a tiny wooden door carved out in the sandy stone. The sign above bore the name "Rare Curiosities: Ricardo Eduardo Rodriguez Roo Rat, Proprietor. "
I knocked gently. A tan rodent with tiny spectacles and flesh color extremities answered. He scratched his chin and studied me quizzically. "And who might you be? Mine eyes have not seen such beauty." I knocked gently. A tan rodent with tiny spectacles and flesh color extremities answered. He scratched his chin and studied me quizzically. "And who might you be? Mine eyes have not seen such beauty." Oh, this will be a different interview. "Hi, I'm Cassandra Monte Carlo from the Four Winds. I'm looking for Ricardo Eduardo Rodriguez Roo Rat," I said, feeling every bit as silly as the name sounded. He nodded. "You may call me Roo, Ms. Monte Carlo! I'd invite you inside my borough, but I'm afraid it's just too narrow." How quaint. He sounds like a nursery rhyme. "That's alright, Roo. How fares business these days?" "Not well, as you can tell. The desert isn't such a lively place in my case. I haven't had any traders in months and it gets lonely." "You don't have any neighbors?" Roo shook his head. "A jackalope used to live there," He pointed to two holes on the other side of the clearing. "Oh, he was a bother. Still, life doesn't compare!" "Why do you say that?" I asked. "There's no flair in the air. Nothing to feel that's real." He sighed. "Do you know what happened to him?" Roo shook his head. "No, I don't. And I won't." I vaguely remembered a jackalope statue in the Pawn Shop from the last time I shopped there.I wondered if it was the same one. Nevertheless, I didn't want to depress Roo further. "Maybe you could move your business and try again elsewhere." "I'm considering risking it all and moving to Falderal," Roo replied. Falderal. That was Ersatz's hometown. He'd told me about the town when I visited Falderal Imports upon opening. It was as a mythical city with talking animal hybrids, bright colors and no straight lines. One would need vivid imagination and a sense of humor to like that place. As a kangaroo rat, Roo would fit right in. "What do you like about Falderal?" Roo's face lit up. "What's not to like? It feels like home and I don't feel so alone. Everyone was welcoming despite my trembling. One house was particularly swell. But I cannot dwell there." "And why not?" "No, I can't afford such luxury. I'm not quite that wealthy yet. But mark my words, madam. I will move to Falderal and mark my name in the record books." He grinned. "You know, Roo, you could be a poet by the way you talk," I said. He raised his eyebrows. "Oh? No one has said that before. Tell me more." "You talk in flowing lines and almost every sentence has a rhyme." He shrugged. "That's the way I've always talked. I've been mocked, but I won't change my speech. Wee hee, maybe that's my destiny?" I smiled. "It could be. Try it out in Falderal and see how that goes." "I will indeed. Now, would you like to trade?" I frowned. As a journalist, I wasn't supposed to accept gifts from sources. Besides, I doubted I had anything that would interest him. I didn't answer. "Oh, come on! Your quill for this little frill?" He held out a golden ribbon. I had to admit; it was quite pretty. The sunlight only illuminated the color and it glistened. I had plenty of quills back at the office; maybe it would help him start his new career as a poet. "You have yourself a deal." We traded items. He smiled again. Maybe today had been the first time in months he'd been able to do so. "Oh, thank you! Now I don't feel so blue. The day is new again." I returned the motion. "You're welcome. I'm glad you are happy." "Now if you'll excuse me, I must return to my gutsy plans. Good day, madam." He shut the door abruptly. I was confused; what was he so eager to return to? At any rate, my business with Roo was done. I tied the ribbon at the tip on my braid and prepared to head home.
A Lively Chat With Dr. Cadaver
Edit
Posted on June 20, 1818 D.C. by Black Widow
Posted by Black Widow on June 20, 1818 D.C.   My dear readers know that over the years, I've visited many glamorous and fascinating locales. I've interviewed kings, villains, heroines, talking furniture, and omnipotent magical beings. Now I've found myself in yet another outlandish setting – Ooga Booga, home to Etheria's dearly departed. It might not be the liveliest place in the world, but don't let anybody tell you it's boring. (I'm sorry, I couldn't resist just one little pun.) I'm here with Dr. Mortimer Cadaver in his ornate Victorian home – elegant, if a little strewn with body parts. He's poured me a cup of (very strong) tea, and we're comfortably settled in his office. I must admit, this plush velvet coffin pillow is worryingly comfortable. "Thank you for taking the time to talk with me, Doctor." "Please, call me Mort." The spindly-limbed man in the stylishly somber suit smiles at me over his cup of tea. "And the pleasure is
Dr. Cadaver in his Ooga Booga home. entirely mine. I never thought I'd be entertaining a famous journalist in my little place of business." "Of course, Mort. The Four Winds wants to tell all the stories of our diverse and colorful lands." "And you're quite welcome! Without Malicia hanging over all of us like an overgrown bat, Ooga Booga's been much quieter of late. Demand for replacement limbs has reached an all-time low… I suppose business isn't the best, but frankly I'm too relieved we haven't all been blown to bits by that volcano." "Yes, I noticed the… surplus." The parlor floor is littered with boxes (pine, and otherwise) and bags of 'spare parts,' no doubt gathered in the pre-eruption panic. "I'd say 'I hope you can use these soon,' but that seems a little – ahh!" Suddenly, there's an awful slurping noise next to me. I jump a little, looking over to see what looks like a mouse with a bare skull for a head, kept under a glass dome. He's leering at me, wringing his little paws and pressing his skull face against the glass. "Hello, Miss Spider. Kiss for a kiss? Quid pro quo…" He wiggles and licks his teeth in a way that would have unnerved a less courageous reporter. I sniff, and dismiss the strangely ominous little creature with a practiced flick of my eyelashes. "You're not my type." "Oh, I apologize for Mr. Nibbler," Dr. Cadaver shakes his head. "He is incorrigible. It's best to just ignore him." "Indeed. So, tell me, how's Ooga Booga been faring since that last crisis was averted?" "Well, as I said, it's been a good deal quieter around here. Quieter than usual, I mean. Malicia no longer haunts the land, and Lord and Lady Tsepish are reunited – which means nobody has to worry about the Headless Horseman anymore. The Gravedigger is back doing what he does best… all in all, the after-life is back to normal." "Glad to hear it! How've you been dealing with the peacetime lull?" "I've recently started a small side business. After Princess Rosella helped me grow a spine – quite literally – I gave her a dear little pet I'd made from some spare parts. He somehow ended up in the hands of those kids who live in the pumpkin – and they seemed so taken with him, I thought, why not make more? So now I've made several more unique and endearing creatures from scrap bits, and they're actually all the rage! Would you like to see one?" I search for the most charming, inoffensive way to say 'not in a million years,' and manage a sweet smile. "…Maybe later. It sounds like you've been keeping yourself busy! You do all of this yourself, or are you looking for an assistant?" "Well, odd as it might sound, the Boogeyman has popped by a few times." "No!" I gasped. "Really? That ghoulish brute? He doesn't seem the type to enjoy any conversation that doesn't involve eating someone whole." Dr. Cadaver smiled and shrugged. "I believe he's had something of a change of heart. He said something about a singing rainbow fairy who listened to him and made him feel better… of course, I only understand around a third of what he says. Otherwise I simply smile and nod." "And now he's one of your regular customers?" "A supplier might be a better term. He always seems to have a bone or two to spare." "And you keep accepting his… deliveries? Even with all this? You're going to run out of space soon. Unless the population loses a whole lot of limbs in another catastrophe, of course." "Ahh, we can always hope!" Dr. Cadaver chuckles, and I'm not entirely sure if he's joking. "And yes, always. I think it's good for him to have someone to talk to. And we do enjoy a drink now and again. Gives me an opportunity to break out the good stuff." "And you didn't offer me any? Where are your manners, Mort?" "I'd pour you some of course, Ms. Widow, but then I'm afraid you'd end up in a tiny box of your own. Some things the living just can't enjoy." "I think I know a few things we can both enjoy…" I lower my voice and give him my best come-hither stare. "It can't hurt. You're already dead, remember?" He smiles and shakes his head, and I feel him slip out of my web. Ah well – it was worth a try! "My dear, I'm afraid I'm married to my work. Or, I suppose… you might say widowed."
Enroute to Kolandria
Edit
Posted by Crispin on June 16, 1818 D.C.
Greetings! I have just returned after visiting a friend in a nearby kingdom. It was both an exciting and educational experience. My good friend, Wildergarth the Wise, recently invited me to the summer solstice gala at his kingdom. As is customary, I prepared my wand for a full day's journey and bid adieu to dear Cedric before departing for the kingdom of Kolandria. I would have loved to take Cedric along for company but we both mutually agreed that someone had to stay behind and look after our sick and wounded animals, the ones that either we gathered or were brought in by the good people of the town, to heal and care for. As there is nothing but a vast, barren mountain range spanning the distance from Serenia to Kolandria I expected it to be quite an uneventful journey. However on that particular day, fate had something special in store. I was almost halfway to my destination n when I heard a loud cry from somewhere below, almost like a call for help. Thinking that it might be a wounded animal, I quickly descended down through the veil of the clouds towards the source of the noise. To my utter surprise, below me, I saw a massive crimson dragon. I noticed that the creature's left front foot stuck below a pile of rocks. As I watched, the dragon struggled in vain to free its stuck limb, even fired a few blasts at the rocks. It was clear that the beast was in pain. If this had been any other animal, I would have not hesitated in offering my assistance, but the fact that it was a dragon…complicated things. Some of my young readers may not know this, but since the beginning of time, wizards and dragons have had a pact. We respect each other's wisdom and power, but never interfere in each other's world intentionally. I would have flown away that day too, had I not been internally conflicted. I came down slowly, but the dragon must have sensed my presence. It lifted its head to look at me as its gaze gradually followed my movement. Instantly, I saw faint traces of smoke coming from both sides of its mouth and was immediately on guard. I maintained a safe distance from the beast lest it decided that I was intruding. Torn between my mind and my heart, I stood before the beast as our eyes locked. I don't know what the creature saw in my eyes, but it visibly relaxed a bit and lowered its gaze. I decided then what I had to do. I closed my eyes and said an internal incantation, pointing my wand at the rocks. The heavens above us rumbled and thundered and in an instant, a forceful bolt of lightning from the skies struck the rocks and converted the hitherto huge rock pile to rubble. With a shrug, the dragon pulled its foot loose and stood up. As I glanced at the colossal dragon towering above me, I hoped that I had not made a lapse in judgment by freeing it. As though sensing my thoughts, the dragon gave me an imperceptible nod, flapped its massive wings and flew upwards with a mighty roar. I stood transfixed for some time before collecting my thoughts. I resumed on my original path, reaching Kolandria just before the commencement of the summer feast. The whole festival was an amazing affair. The townsfolk masterfully portrayed their talents and rejoiced in the bountiful harvest of the season. Participating in the revelry and merrymaking helped me unwind and forget about my encounter earlier that day. Later that evening, my friend and I caught up on what was going on in our lives. We talked till the late hours of the night and even exchanged a few spells. I must admit, I am a little behind on my wizardry continuing education lessons. Wildergarth was nice enough to fill me in on the latest conjuration literature including the sessions that I had missed (not intentionally) on the crystal ball smoke-cast network. I also relayed the day's events to my friend, trying to get his views on the subject. I was glad to know that Wildergarth commended my actions and said that freeing the dragon was the right thing to do. He added that we wizards have a moral code; to do what is right and follow the path of goodness, above all else. He also added that maybe that dragon would one day reciprocate and help me in my hour of need. Although I am unsure about that part, I feel good for helping a fellow living creature in need. Maybe we need to review over long forgotten rules and rethink our pact with the dragons. Perchance even strive to add them to our ranks as powerful allies against the forces of evil. What do you think, dear readers?
Barking Mad at the Isle of Wonder
Edit
Posted by Black Widow on June 13, 1818 D.C.
Archduke of Falderal Fifi Yip-Tap is exploring the Isle of Wonder to build a summer estate. The duke considered a patch near Bookworm (and my) old haunt, off the Pun Garden beside Chessboard Land and near the oyster beds near the coast. The hyper poodle fell in love with every place he saw.   Oh, he'll fit right in with that yappy attitude. Okay, that was a bad pun.  Anyway, he saw me lurking in the shrubbery near the swamp and ran away. His eyes were the size of pearls the isle is known for. Then the dogwood tree barked at me. Maybe I should stay away from the canine species.
Madame Mushka's horoscopes
Edit
Posted by Madame Mushka on August 3, 1818 D.C.
Horoscopes by Madam Mushk
Aries
The first sign of the zodiac, Aries always brings abundant positive energy and enthusiasm in everything he does. The competitive ram will butt heads with others but will always get full points for spontaneity and vitality. Though every impulse in your being tells you to jump at the first chance you get, wait for the dust to settle before making any concrete plans.
Taurus
Taureans might want to tighten their grip on their gold satchels.Uranus squares the Sun, Mercury, and Pluto, so there might be some unexpected expenses. The strong-willed, dependable bull leads the way when it comes to reaping the rewards. Success will be yours if only you can entangle your horns from past mistakes and regrets.
Gemini
The versatile Gemini dance to the beat of their own drummer.The stars offer you their blessings with good fortune paving your path. But even with the wind in the sails, Gemini will have to work hard and persevere if they plan to achieve their heart's desire. Don't be afraid to chart your own course.
Cancer
Safe from the harsh outer world, the soothing environment at home serves as a welcome retreat for the hermetic crab. You feel secure and happy around your loved ones. Friends will come to you in search of comfort and compassion. You will also be actively involved in planning group activities with family and close friends.
Leo
The powerful charms of Leo are almost impossible to resist.When the regal lion takes center stage, everyone notices. The radiant dawn opens new doors for you. Change can be your friend. But beware, everything that is bright and shiny may not be a true gem. Stay grounded and trust your instincts.
Virgo
The shy and ever cautious Virgo thinks twice before making a move. But now is the time to throw caution to the wind and jump on the fast train.  Fortune favors you and helps you get to the top. Just remember to hold on and keep trying till you thrive.
Libra
My dear diplomatic Libra, is the balancing act getting too tiresome for you? Your winning personality and judicial outlook makes you the leader. But it is time to take off the blinders and lend an open ear to the opinions of others. You might hear a viewpoint or side of the problem that you never expected to see.
Scorpio
Beneath a calm and composed exterior beats the heart of the ever passionate scorpio.  Your resourcefulness will be tested to its limits as things start coming at you from all sides. Try not to get pressurized. Persuasive individuals will try to sway you but the trick is to secure your position and be strong.
Sagittarius
The magnanimous Jupiter watches over you and guides your path. You will exude excitement and optimism. Your enthusiasm is almost contagious to all those around you. You will feel your philosophical side take charge as you ponder the meaning of life and your role in the grand scheme of things.  Engage in relaxing activities to unwind.
Capricorn
The windy mists in my crystal ball have parted to show an exciting opportunity heading your way. The answers to your deep probing questions are right around the corner. Don't let your inquisitive mind rest until you find responses that ring true for you.
Aquarius
Imagination is the key word that describes a true aquarian. You will use your exceptional listening skills and equivocal mental aptitude to successfully diffuse an argument around you.  Take time to be by yourself for introspect and achieve spiritual enlightenment.
Pisces
This water sign is considered to be the most mature of all the zodiacs. Explore all the myriad paths and exciting routes that you have never tried before. Your friends and loved ones will dote on you and provide you with much needed support.  I can see a new love interest developing for you. Keep a look out!
Behind the scenes
Edit
The Four Winds was a work of fan fiction, in the form of a newsletter, published by the team of the The Silver Lining as a kind of prologue to the game. It was later removed from their site. It has recently been brought back.
The Four Winds is not produced or distributed by Sierra On-Line. All original content (c) 2002 King's Quest IX Development Team. "The Four Winds" is a work of fan fiction. It is based on the popular King's Quest series, which is wholly Copyright of Sierra Entertainment Inc. 1984-2002. All Characters and related material are registered trademarks of Sierra Entertainment, Inc.
External Links
Edit
Ad blocker interference detected!
Wikia is a free-to-use site that makes money from advertising. We have a modified experience for viewers using ad blockers

Wikia is not accessible if you've made further modifications. Remove the custom ad blocker rule(s) and the page will load as expected.